Open Source Summit 2016 at Bahria University
#OSS16BU
December 22nd , Press Release Open Source Summit 2016 
The 4th Annual Open Source Summit, held on 22nd December at Bahria University Islamabad Campus. 
Organized by Open Source Foundation of Pakistan
Hosted by Bahria University Islamabad Campus
Sponsored  by:  Pakistan Software Export Board, Inbox Technologies,  OpenWare Business, Internet Society Pakistan Chapter, IEEE Bahria University Chapter, Computer Society of Pakistan, Pakistan institute of Entrepreneurship, Odoo S.A.
Media partners:
ProPakistani.pk , Tune.pk , Techmag.pk , BeingGuru.com and Daily Azkaar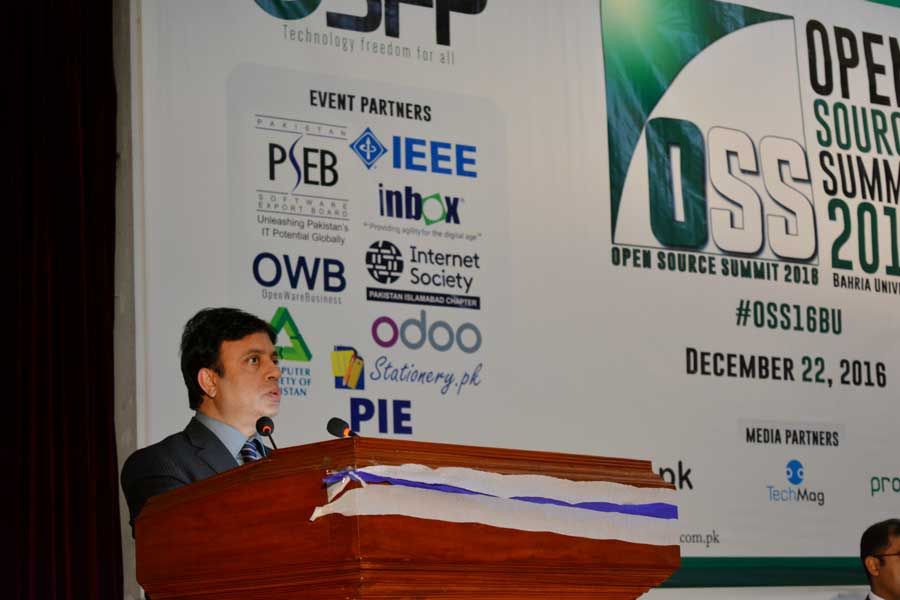 Chief Guest

Mr. Asim Shaehryar Hussain, MD PSEB, was the Chief Guest of the event. He acknowledged the efforts and role of OSFP in promoting Open Source Technologies in the country. He said that it is the goal of PSEB to promote open source usage in Pakistan and to migrate government organizations from expensive paid licensed software to open source licensed software and technologies in the next 5-10 years.
He said that PSEB has sponsored open source training and migrations in the past where PSEB had trained more than 5500 students and professionals on open source technologies.
He said that OSFP can submit a training proposal to PSEB and ICT R&D Fund to resume such training in future.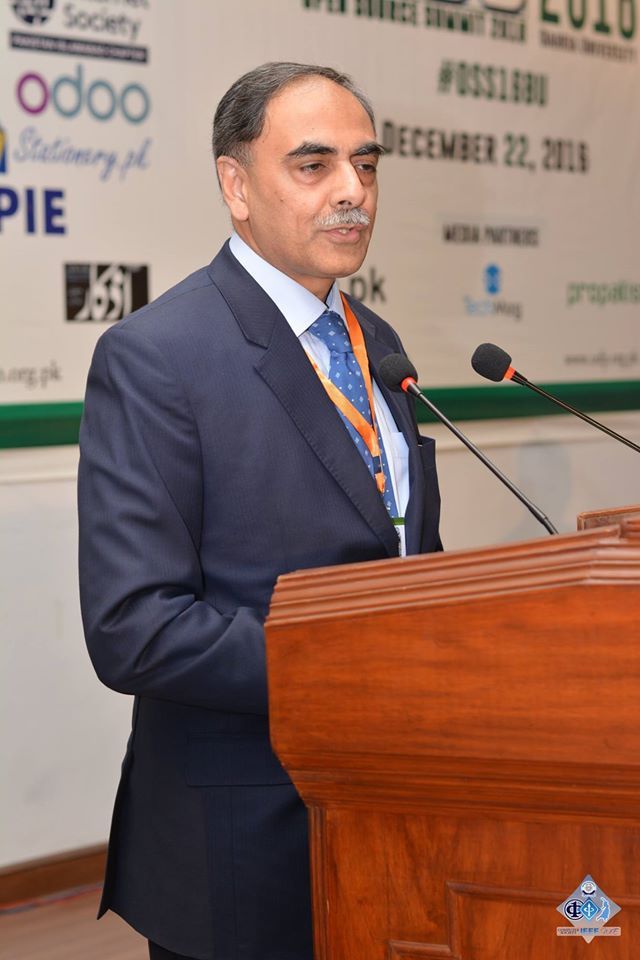 Chairman OSFP
Mr. Saleem Rafik, Chairperson OSFP said in his welcome address that the efforts of Open Source shed light on the background and achievements of OSFP. He highlighted very important questions about the opportunities for Pakistan in the technological wave in form of IOT, Artificial Intelligence, Data Analytics, Mobile and Cloud Computing.
We need to be prepared to capture the opportunities through Open Source Technologies.
According to him Open Source Foundation Pakistan shall participate in the following initiatives:
Iqra City an online university city

OSFP will develop Open source Companies (Membership Portal)

Carrier Portal for Open Source professionals  

Open Source Collaborative Communities

Policy Recommendation to Govt, for Open Source Usage and its Promotion

ODOO Developers Group

Python Developers Group

Linux Users Group

Big Data Research Group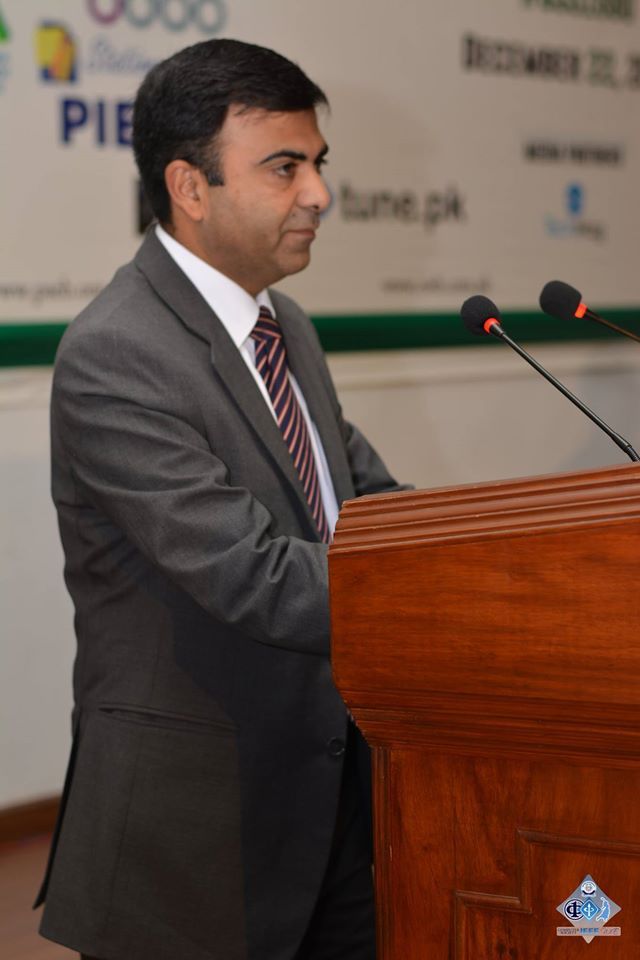 Dean Engineering Sciences 
Dr. Najam ul Hassan being the host of the event welcomed all the participants and distinguished guest of the OSS 16.
He said the BU is proud to host the event and this collaboration of two organizations shows the acknowledgments of importance of Open Source Technologies from the academia and industry partnership.
He also said that we will work side by side with the OSFP and other key players of industry who are working to promote the open source technologies in Pakistan.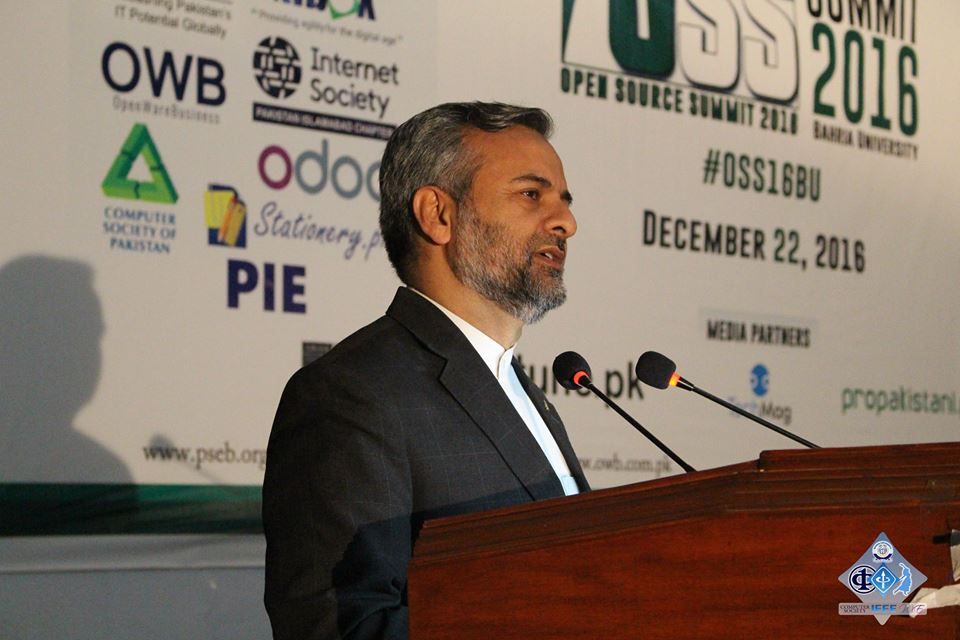 Member EC, OSFP
Mr. Tahir Chaudhry thanked the distinguished guests from Industry and academia, participants, students, Bahria University, Organizing committee, Sponsors and all other support staff for making the event a success.
He made the big announcement of the day that the first Open Source Awards are going to be held in 2017.
These awards would be announced and distributed in collaboration with Industry and Academia..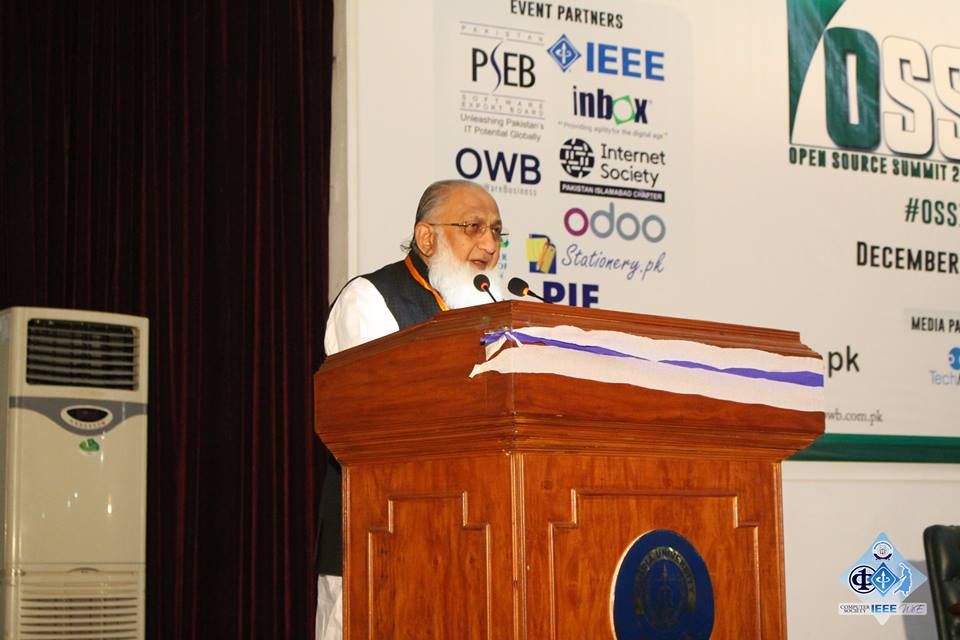 Dr. Nazir Vaid, Serial Entrepreneur
Dr. Nazir Ahmed Vaid mentioned that we are heading into an age where man will go behind the machines.
Artificial Intelligence will replace the manpower in the coming future e.g.(Robotic Surgeries, Robotic Drivers, Automated Manufacturing Process).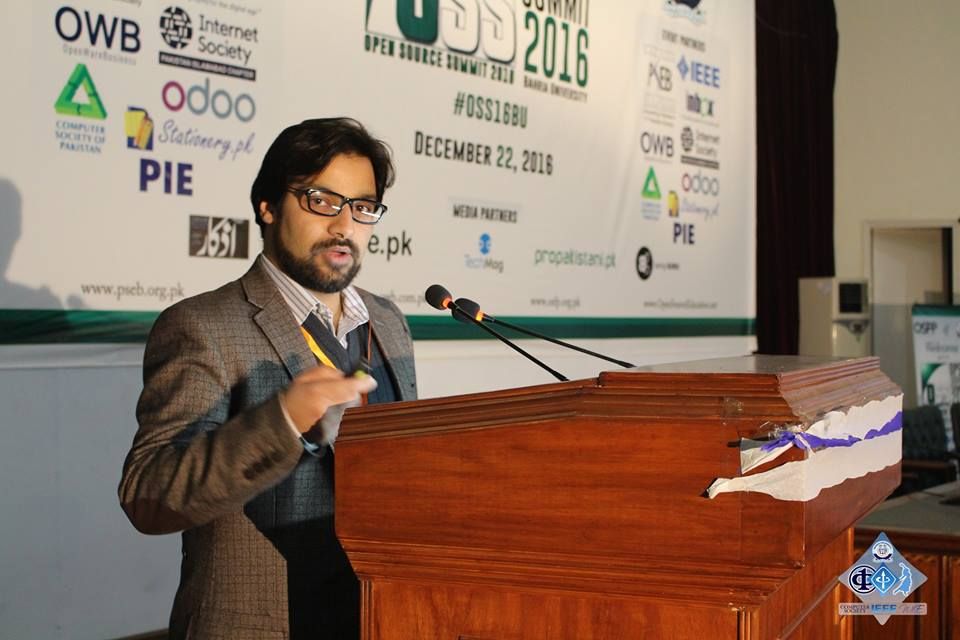 Dr. Numan Naseer
Dr. Nauman Naseer (Open Source and Neuro Robotics in Practice) highlighted the importance and usage of open source technologies to work on the Brain- Computer Interface (BCI).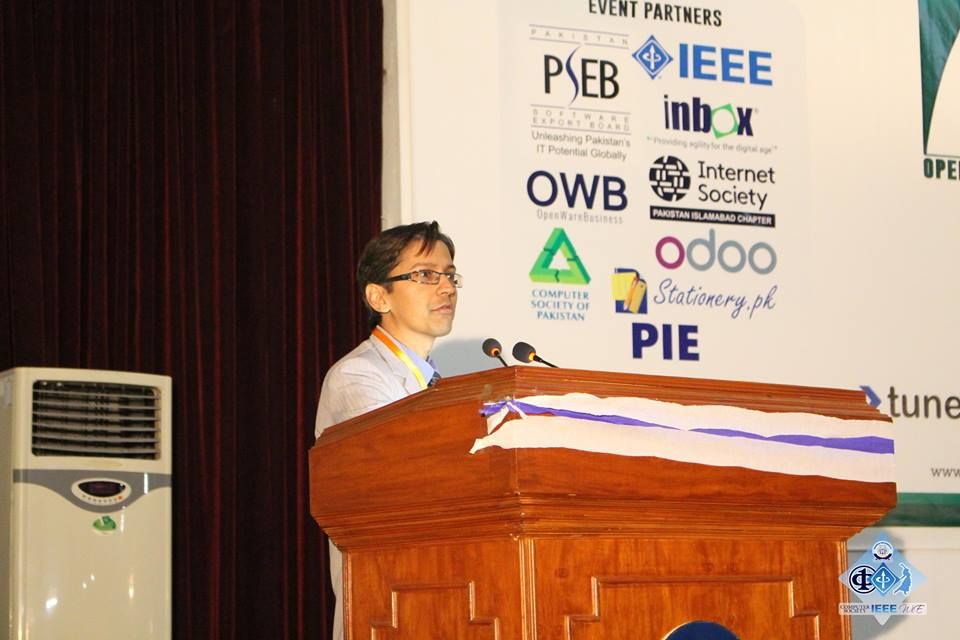 Dr. Muhammad Sajid
Dr. Muhammad Sajid, NUST University mentioned that the kind of liberty Open Source technology brings with it, encourages the mechanical engineers to develop such products which were only meant to be fantasized before the introduction of open source technologies.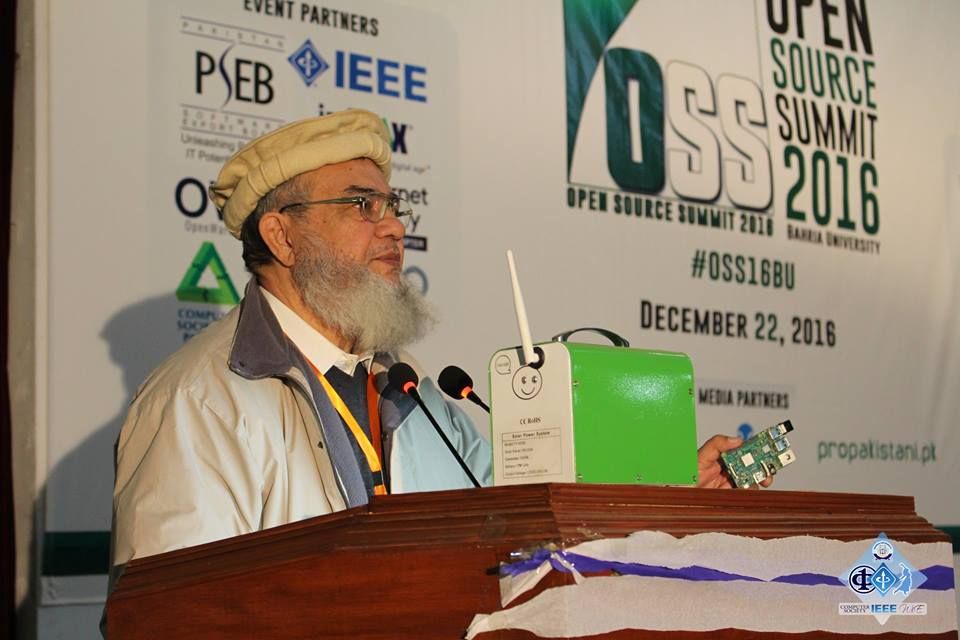 Prof. Dr. Lutfullah Kakakhel

Prof. Dr. Lutfullah Kakakhel, Ex vice Chancellor Kohat University, introduced the portable education server based on Raspberry pi specially designed for area where power, internet connection are dreams.
He said that this service is very much helpful to educate the children from the conflict hit areas and to the other remote areas.
Panel Discussion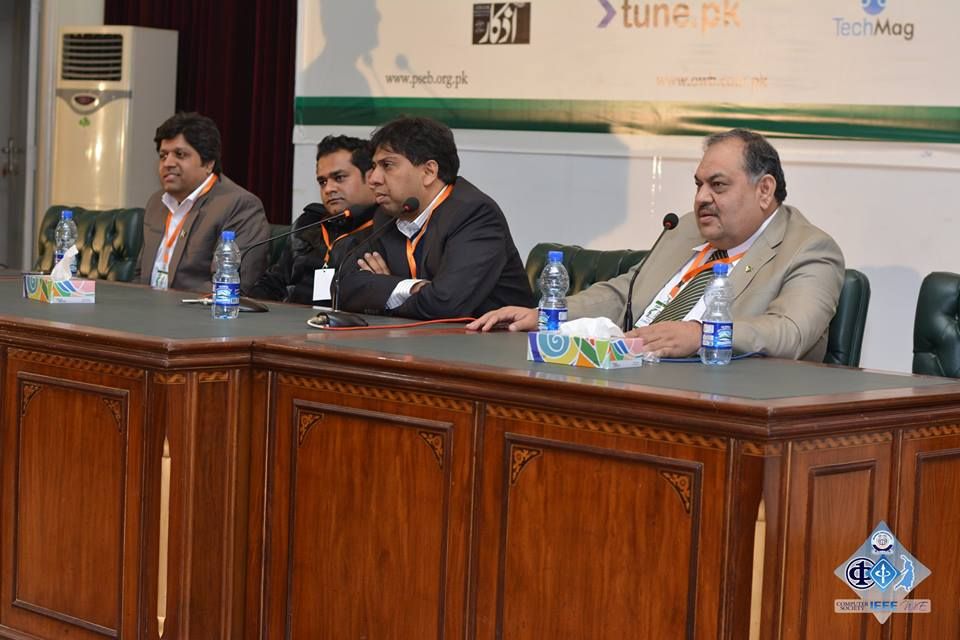 This was followed by a Panel Discussion on open source in Pakistan. Panelists included Vice OSFP, Prof. Dr. Ashraf Masood,  VP Industry Academia OSFP, Mr. Atif Mumtaz, Prof Dr. Ali Kashif Bashir OSAKA University and Founder Open Source Foundation of Pakistan Mr. Babar Zahoor.
And discussion was Moderated by Mr. Tahir Chaudary.
Workshops

Odoo ERP System,  MongoDB, Mean Stack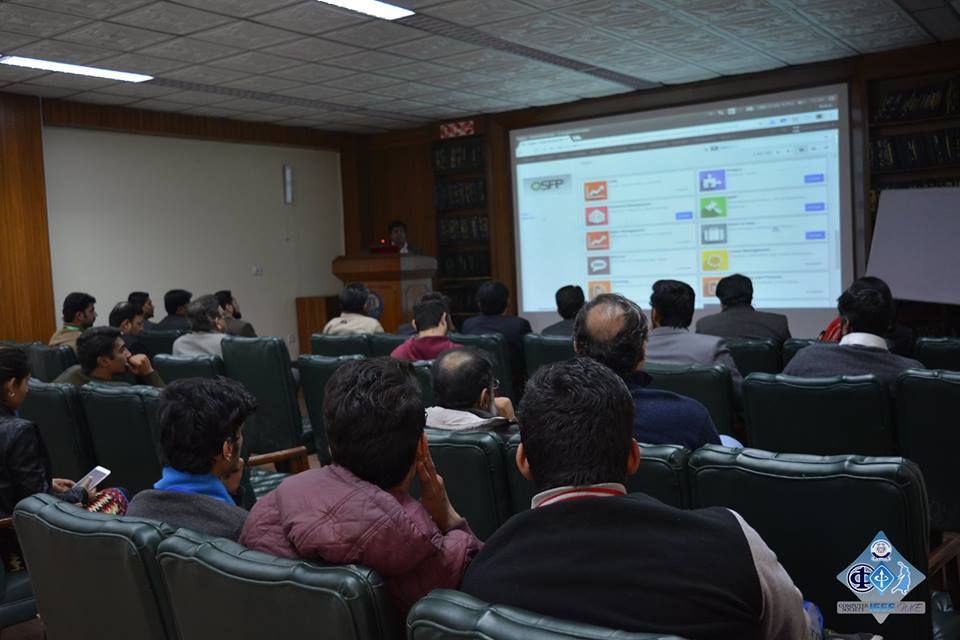 Odoo Workshop
Mr. Babar Zahoor
Founder OSFP & CTO / Co-Founder OpenWare Business
conducted a introductory workshop on  Odoo, a comprehensive  ERP system. He demonstrated the key features of Odoo ERP. He also explained the modular architecture of Odoo and how it excels other ERP systems in the World.
He explained how Odoo is cost effective, efficient, easy to use.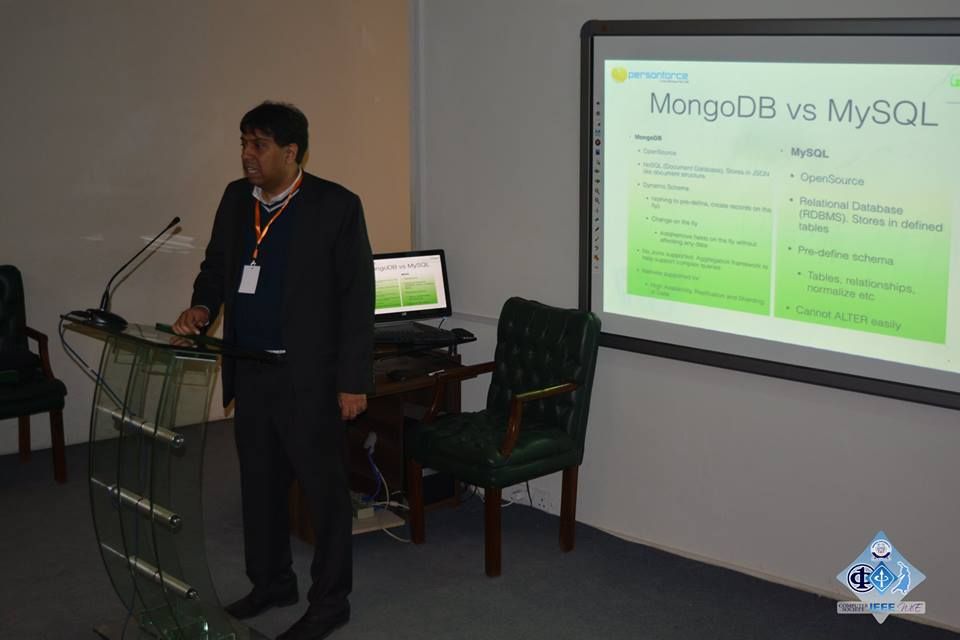 MongoDB Workshop
Mr. Atif Mumtaz
CTO, PersonForce.com &VP Industry Academia Linkages OSFP
Explained the basics of MongoDB and to how to use MongoDB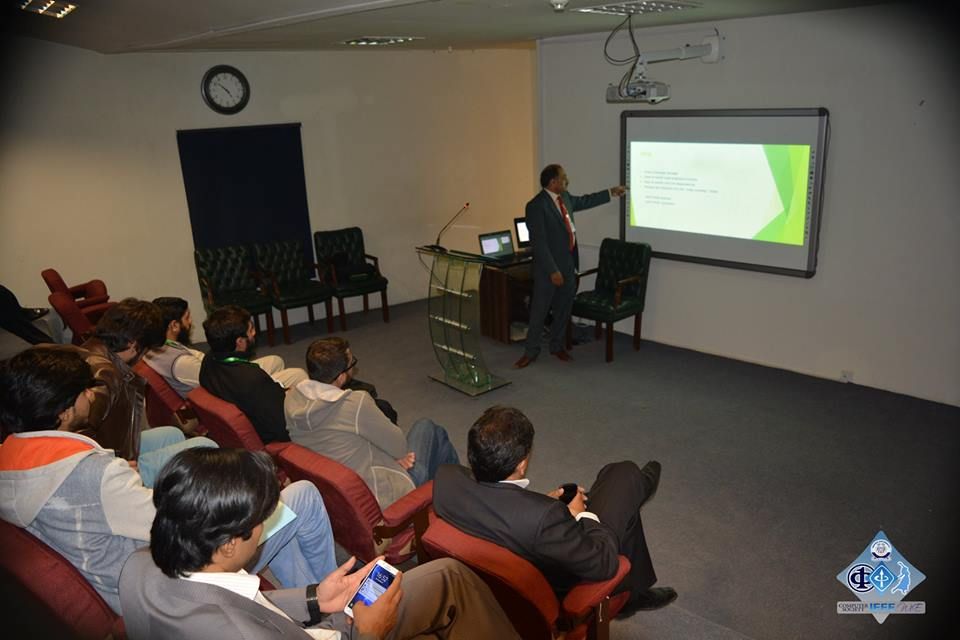 Mean Stack 
Mr. Shahid Altaf Qureshi, President Open Source Foundation Pakistan
conducted a workshop on Mean Stack, he demonstrated how to  design Web applications using Mean Stack.